In the previous article, we showed you how to save pieces of your designs as custom components, making them highly reusable. You can also share them to the Bootstrap Studio online library and help other users.
Sharing Components
This is done by right clicking your custom component and choosing "Share online..". Shared components are synced across your Bootstrap Studio installs, so when you share a component on one computer, it will be copied to the rest of your computers automatically.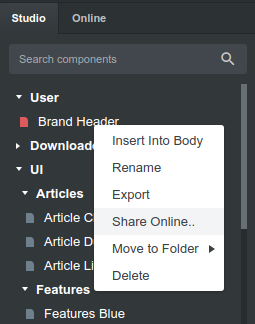 To stop sharing a component, open the Share dialog again, and click the Unshare button on the bottom right. This will remove it from our online library immediately. However, people that have installed it will continue having it in their copies of the app.
Installing Components
After a component has been shared, it will show up in the app's Online tab. There, you can search for all user contributed components. To install them, just click the Install button, as we've shown in the video below.
If you decide to remove your component at a later time, find it in the Download group in the Studio tab, and delete it.