If you have a JavaScript file or library that you wish to import in the program, you can do it by dropping it over the app, or by right click the JavaScript group in the Design panel and selecting Import JS File.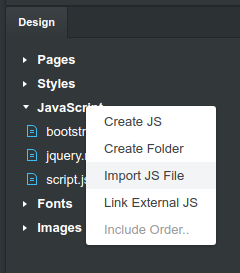 Alternatively, you can also create an empty js file, where you can paste your js code.
Note: When importing js files, you make a copy of them in your project. Any changes made in the original file will not be displayed in your project. If this is not what you want, you can link JS files instead.
Keep in mind that jQuery and the Bootstrap JS files are imported in Bootstrap Studio by default, there is no need to included them again.