Bootstrap Studio shines as a visual drag and drop editor, but it also gives you the ability to convert parts of your page into HTML and enjoy unrestricted code editing with keyboard shortcuts and live preview.
Converting to HTML
To convert a component to HTML, right click it and choose the Convert to HTML option from the menu.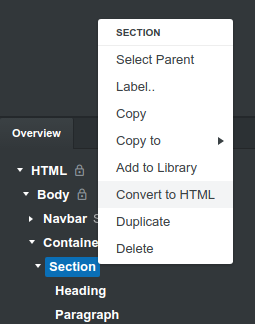 This will take the HTML of the selected component and place it inside a new Custom Code component. The original will be deleted. You can double click and edit the Custom Code component like we discussed in the previous article.